Robert I. Schnipper, MD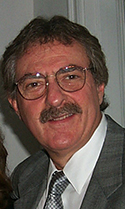 Pioneer, teacher, advisor, eye physician, and board-certified LASIK specialist, Dr. Schnipper has been a leader in ophthalmology in Northeast Florida for more than 25 years. He founded the Jacksonville Eye Center in 1972 with a commitment to continually improve his patients' lives with the safest, most accurate procedures, and he continues to bring leading-edge technology to this region.
His reputation has spread far beyond Jacksonville, and patients often come from great distances for his consultation and care, while eye surgeons from around the world travel here to learn his advanced techniques.